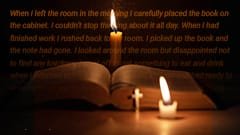 Hi, my gorgeous girlfriend had an encounter on a train.
It was summer time and she was waiting to get on a train to come home from work, she was wearing a thin cotton summer dress and no underwear as it was to hot.
She kept getting brushed up against by men and she felt her nipples getting hard as she stopped trying avoid contact and enjoyed it.
When she eventually got on the train she sat down and her very short dress came up and nearly showed her pussy.
A man sat next to her, he was wearing dirty overalls and she could smell his sweat, he kept looking at her legs which she kept very slightly opening to show her now very wet slit.
He had a jacket on his lap and she could see he was holding a big bulge in his pants.
She slid her hand underneath the jacket and gripped his very hard cock. He put his hand on top of hers and unbuttoned his overalls.
She could feel his big dick and rubbed her finger on the pre come on the end. An old man stood up next to them in the isle and my girlfriend looked up at him and asked him if he would like her seat, yes thank you, he replied with a smile.
The man sitting with his cock out under his jacket looked shocked. My girlfriend stood up and moved into the isle, her little dress barely covering her bottom.
The old man sat down. Is it okay if I sit here? And pointed to the man in the overalls lap, yes he said, as she sat down she brushed his jacket away and sat straight onto his very hard cock, she could feel it go straight up inside her and she squirmed like a naughty schoolgirl!
As the train bumped and turned she could feel his dick getting harder. She squeezed her bottom together and felt his hot come spurt inside her tummy!
The train was reaching her stop and she stood up to get off, as she did she could feel his come running down her legs! She giggled as she walked down the platform and out onto the street, one to me, she said to herself!